The key to finding the best Valentine gift for wife is to consider her interests and preferences. Take into account her hobbies, favorite activities, and what she's been talking about lately. Show her that you have been paying attention to her likes and dislikes, and that you put thought into the gift.
Another important factor to consider is the personal touch. A gift that is unique and personal, such as a custom-made item or a surprise trip, will show her that you put effort into making the day special for her.
Here are some Valentine day ideas for wife to make it a memorable day for her
---
The Corgi Valentine's Day Red Truck Hearts Shirt is a cute and playful shirt that is perfect for Valentine's Day. It features a red pickup truck with a heart-shaped balloon tied to the back, and a cute corgi dog sitting in the bed of the truck. The shirt also has a Valentine's Day theme with hearts and the words "Happy Valentine's Day" written on it.
Price : $19.90
---
Small Heart Gift
Valentine's Day is essentially defined by hearts, so embrace the corny in the chicest manner you can. The box of roses from Venus et Fleur will always be admired and flaunted by its recipients. What's best? These flowers won't go out of style after a few days since the brand's technology enables them to remain unchanged for a full year. The box is completely customized, allowing you to select roses in any hue you can think of, from yellow to petals that are a rainbow of colors (yep, you read it correctly!).
Price : $359.00
---
Rose Jewelry Box
Another fantastic website delivering long-lasting stems is Rose Box, situated in New York City, but what sets it apart is a unique design feature. The brand's gorgeous translucent box serves as both jewelry storage and packaging. You may even put a beautiful note inside or a monogram. Want to save 10% more on your purchase? Simply subscribe to the website's email list to receive the discounts in your inbox.
Price : $279.00
---
Flower Bouquet Arrangement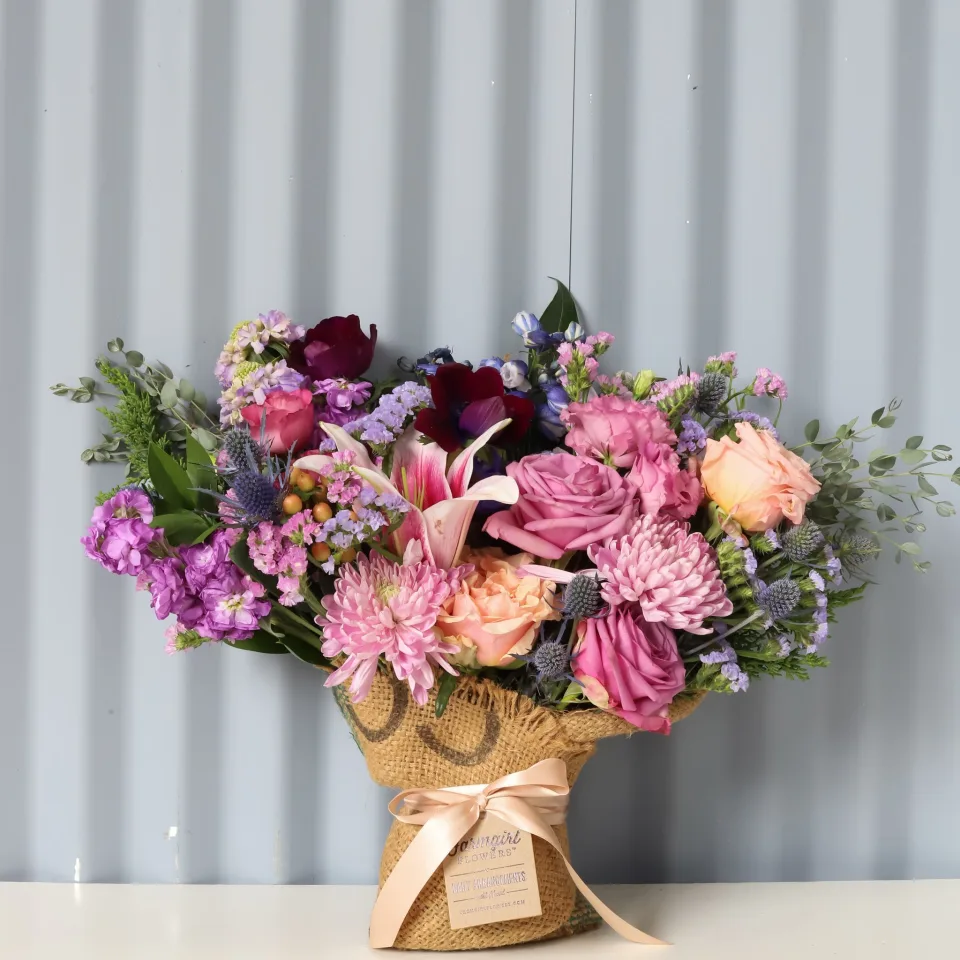 Are you looking for a lovely, unusual presentation? Make your way to Farm Girl Flowers. This bouquet includes 15 fresh flowers as well as creative burlap packaging.
An online user writes, "I adore Farmgirl Flowers." On addition to offering lovely flower arrangements, they also provide great customer service. Unlike rivals, their flowers always arrive looking just as they did in the website photographs.
Price : $59.00
---
Signature Box Set
Although it might not be a typical Valentine's Day dish, mochi ice cream should be. With Mochidoki's Signature package, which includes tastes like mango, vanilla chip, black sesame, and more, you may create a spectacular dessert sampling.
Price : $90.00
---
Woodford Reserve Bourbon Balls
Are you buying something for a whiskey enthusiast (obviously not something cheap)? Grab her some Woodford Reserve chocolate balls and go the extra mile. She now has a new method to enjoy her preferred alcoholic beverage, and how lovely is the dark brown box it comes in?
Price : $59.95
---
Martini Kit
This gift has two possible outcomes. We promise that if you give the set as-is, it will be used right away. Or feel free to try it out on your own to create a delicious beverage. There are mixes for all of the popular cocktails, including bloody marys, margaritas, and martinis. And sure, it falls under the $50 requirement for the gift guide, but we advise getting a few kits because you shouldn't skimp on the mixers.
Price : $40.00
---
Best Red Wine Glasses
The following one is for wine enthusiasts. Kurt Josef Zalto's Live Better wine glasses, which won awards, unquestionably have the best design. They are produced by hand, light in weight, and have a unique form that promotes the development of the wine.
Price : $95.00
---
Tulum Style Bar Set
Serena & Lily's Tulum Bar set, on the other hand, is perfect for her if she like cocktails and loves rattan. It won't take long for it to occupy a prominent position on her bar cart.
Price : $248.00
---
Tumbler Bundle Best Seller
The bestsellers from Anecdote will be in high demand among candle queens. Every emotion has a candle, from one for staying in to flames for FOMO. It's a thoughtful gift that will be utilized repeatedly.
Price : $175.00
---
Smart Digital Photo Frame
You no longer have to develop each of your images individually thanks to Nixplay. All of them may be easily viewed in a digital frame. You can rely on the present to more than deliver because it is recognized as America's Top Selling Digital Frame on Amazon and has received over 21,000 favorable reviews.
Price : $143.00
---
Good Dutch Oven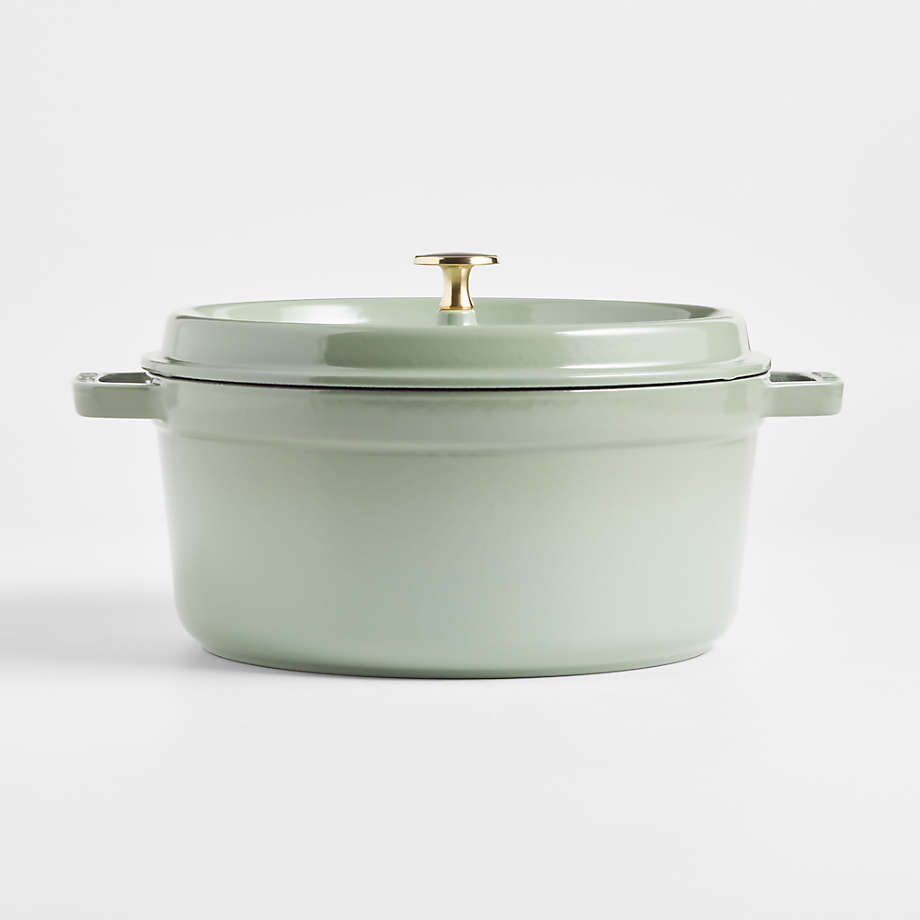 Staub's newest Eucalyptus hue was just released by Crate & Barrel, and dare we say it screams spring. Don't pass up the opportunity to get someone you care about in the mood for spring since Valentine's Day is so soon to the season change.
Price : $359.95
---
Food Storage Set
Tupperware that doesn't match is the worst. With the highly regarded food storage package from Caraway, which includes an organizer with dedicated spaces for each box and lid, you can give the gift of organization this year.
Price : $245.00
---
Copper Rondeau
Grant Achatz, a chef with three Michelin stars, developed this copper line for Made In. Given that it is French-made and has a high price tag, the pot is intended to be passed down as an heirloom, so you are also giving a present to future generations. Most cookware can endure oven temperatures of up to 800°F, while Achatz's design can tolerate temperatures up to 500°F on average. That's really impressive!
Price : $490.00
---
Matcha Maker Starter Kit
The Cuzen Matcha Maker is a further recipient of the Live Better Award. In addition to being more beautiful than other coffee makers, it's a wise investment for the person in your life who is attempting to kick their caffeine habit.
Price : $299.00
---
In conclusion, the best Valentine's Day gift for your wife is one that is thoughtful, heartfelt, and tailored to her individual tastes and preferences. Whether it's a piece of jewelry, a spa day, a romantic getaway, a heartfelt letter, or a special dinner, the key is to show your wife that you love and appreciate her in a way that is meaningful to her. Ultimately, the most important thing is to put effort and thought into the gift, and make it something that she will treasure.