As the cooler fall breezes rustle through the autumn leaves, we turn our thoughts towards the season of spooks and scares – Halloween. And for Halloween 2023, we are here to guide you through some of the most chilling, yet easy-to-create, DIY outdoor decorations that will make your house the frightful favorite of the neighborhood.
Why Go for DIY Decorations?
There's an inherent charm to homemade Halloween decorations. They give us the freedom to let our creativity run wild, enabling us to create a unique and personal scare experience that is unmatched by store-bought counterparts.
Skeleton Garden Party
We suggest you kick off your Halloween outdoor decor with a Skeleton Garden Party. Skeletons are a classic Halloween motif and setting them up in your garden can create an eerie, yet amusing sight for passersby. You can position these bone-rattling party-goers around a makeshift table, raising a toast with empty glasses, or engaged in a game of cards. A dimly lit backdrop with fairy lights or lanterns will complete this spooky scene.
Ghostly Wind Chimes
Another bewitching decoration we propose is the Ghostly Wind Chimes. Using white fabric or tissue, create small ghost figures, ensuring they have long, flowing tails. Attach these figures to a circular wireframe or a sturdy tree branch, then suspend it where the wind can create an uncanny dance of ghosts, accompanied by the chilling sounds of chimes.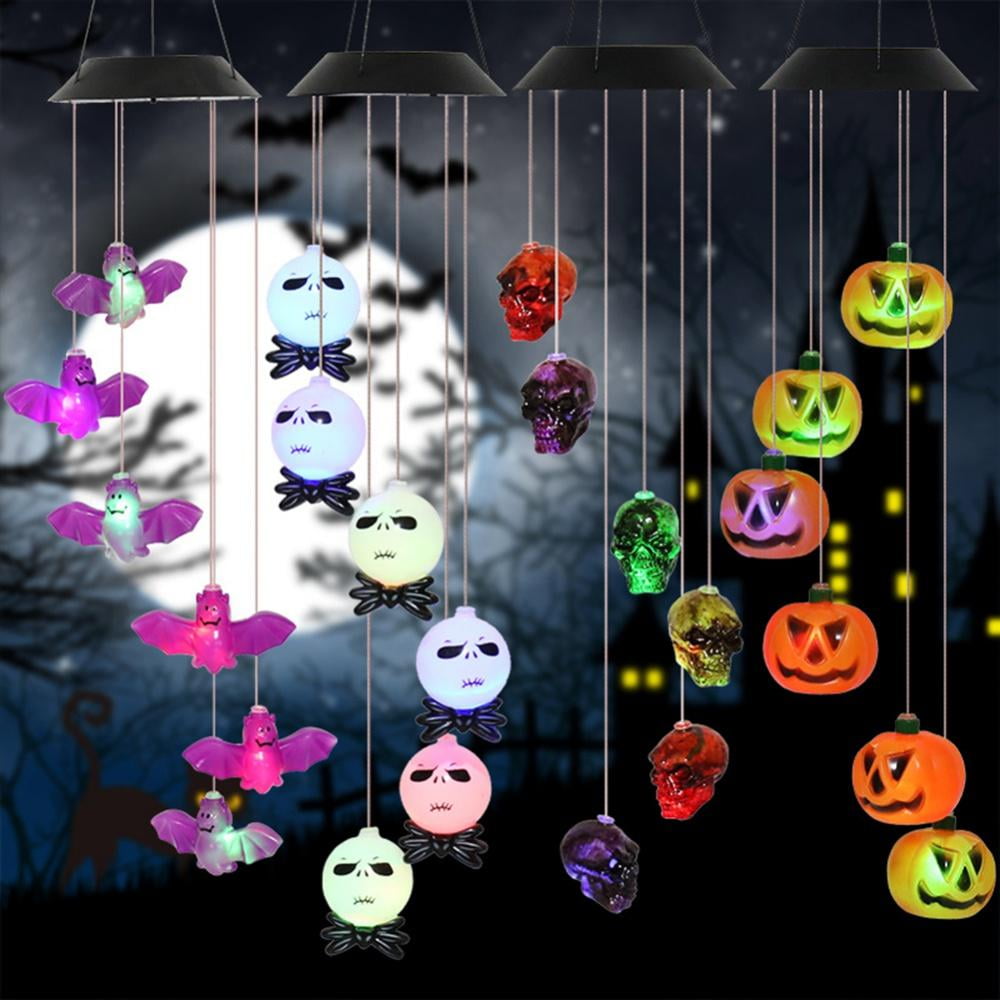 Sinister Scarecrows
Next up on our list of eerie decorations is Sinister Scarecrows. Old clothes, a few straws, and a terrifying mask are all you need to create these dreadful figures. Pose your scarecrows in different locations throughout your yard, preferably in dimly lit corners, to give unsuspecting visitors a frightful surprise.
Petrifying Pumpkins
No Halloween is complete without a parade of Petrifying Pumpkins. The glow of Jack-o'-lanterns adorning your doorstep or windowsills is a timeless Halloween tradition. However, you can put a 2023 twist to this tradition by adding LED lights or glow sticks inside your pumpkins for a more radiant and startling effect.
Enchanted Graveyard
Last but certainly not least, the Enchanted Graveyard is our final recommendation for your DIY Halloween decoration journey. Convert your front lawn into a haunted burial ground with homemade tombstones made from cardboard or Styrofoam. Use a marker to write funny or creepy epitaphs on the tombstones. For an added horror factor, you can plant zombie hands or skeletons popping out from the ground.
Conclusion
These DIY decoration ideas are not only simple to create but also allow you to add a touch of your own unique creativity to Halloween 2023. Get your family involved in the process, and before you know it, your yard will be the perfect blend of spine-chilling scares and enchanting autumn beauty. So let's celebrate this Halloween with an eco-friendly approach, creating more memories and less waste, and most importantly, sharing a few frights along the way.